Libraries Rock 2018 – Summer Reading Program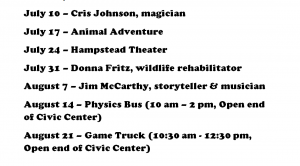 Libraries Rock 2018
Peck Memorial Library is offering an exciting line up on Tuesdays during the summer months. Most programs begin at 10:30 and are usually at the library. Check Peck Memorial Library's calendar on the webpage (peckmemoriallibrary.org) or their Facebook page for more information about these performances.
Because of the generous grants we have received we are able to make these programs possible. We offer the following appreciations to:
The Decentralization Program, a regrant program of the New York State Council on the Arts with the support of Governor Andrew Cuomo and the New York State Legislature and administered by CNY Arts.
We have also received an Outreach Mini Grant from the FLLS and last but certainly not least the Friends of Peck Memorial Library contributes to the success of the summer reading program!